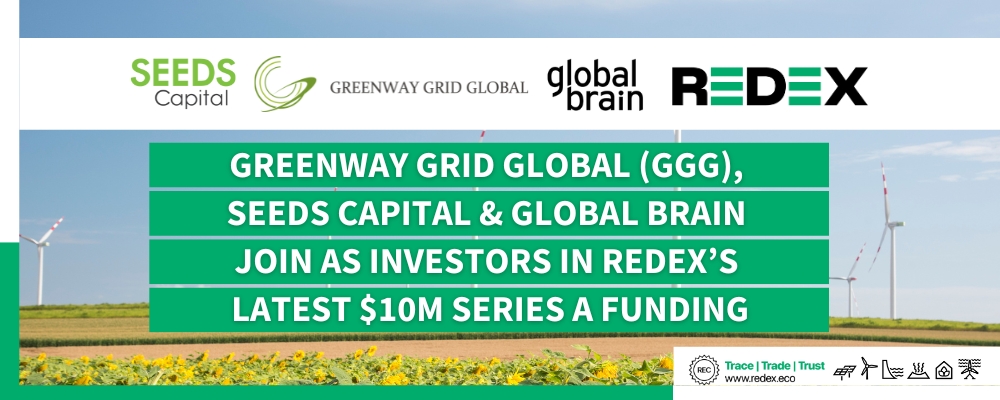 Greenway Grid Global Pte Ltd, Global Brain and SEEDS Capital joined REDEX's latest Series A fund-raise announced in October.
With these new partnerships, REDEX seeks to enhance collaboration and make positive impacts on climate change with renewable energy certificates.
Greenway Grid Global Pte Ltd
Greenway Grid Global Pte Ltd is a joint venture between Tokyo Electric Power Company Power Grid, Inc., CHUBU Electric Power Co., Inc., and ICMG Partners. Greenway invests in power transmission and distribution businesses, as well as next-generation infrastructure businesses.
View the announcement by Greenway Grid Global here
Global Brain
Global Brain is an independent venture capital firm that aims to launch new industries into society  with on-the-ground support for startups and open innovation.
Global Brain invests in various industries, focusing on DeepTech, commerce and enterprise organisations. In 2022, they invested JPY 28.8 billion in 150 deals.
View the announcement by Global Brain here
SEEDS Capital
SEEDS Capital is the investment arm of government agency Enterprise Singapore. SEEDS Capital invests in innovative startups with global market potential alongside co-investment partners.
View the announcement by SEEDS Capital here
REDEX looks forward to an exciting partnership with our new investors in advancing the uptake of renewable energy solutions amongst organisations.